MISSION
Mission is love in action
"If the church isn't about healing, it isn't about anything at all." (Bishop Henry Richmond)
WHAT THE SOZEIN TRUST DOES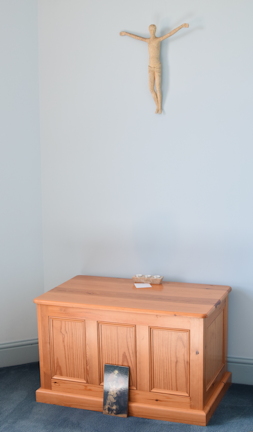 Move cursor over to enlarge
Attending to people's crises: matters of the heart, strong emotions and unfulfilled longings are nurtured through misery into a deeper understanding and forgiveness. Paying careful attention to their pains, sitting with them in time of crisis, listening to their fears - all this lightens the heavy load of anguish. It is through such dark journeyings that we are brought to a place of greater respect and freedom from fear, leading to inner peace. New reserves are unlocked to enable a less destructive, more positive way of living. The director has spent over forty years accompanying unsettled folk in dark, uncertain periods of their lives.
HOW?
In a peaceful, restorative rural environment, support and encouragement may take the form of discovering fresh insights into their predicaments. This takes time and the pace of progress is often slow. The almost hidden privacy provided by this small charity imparts a refuge in which people's deepest pains may be identified and released, so that the past can be laid to rest.
ALSO
The charity runs Quiet Days of retreat, teaching days on subjects often wondered about and seldom discussed (such as the healing of ancient hurts in families and places), teaches on the mystics and the healing work of the churches locally and nationally and can be found celebrating in a variety of churches throughout the year.
We have opened a new library. Our books are on Christian spirituality, Christian mysticism, the churches' ministry of healing, spiritual direction and the classics of the Christian spiritual life, letters of direction, Christian praxis, the psychic and the spiritual, and science and religion amongst other topics. Clergy of all denominations, members of religious orders, lay readers, ordinands and other serious readers are welcome. The Trust relies mainly on your generosity.
FOR WHOM?
The registered charity is open to people of any, or no, faith at all.