LATEST TOPICS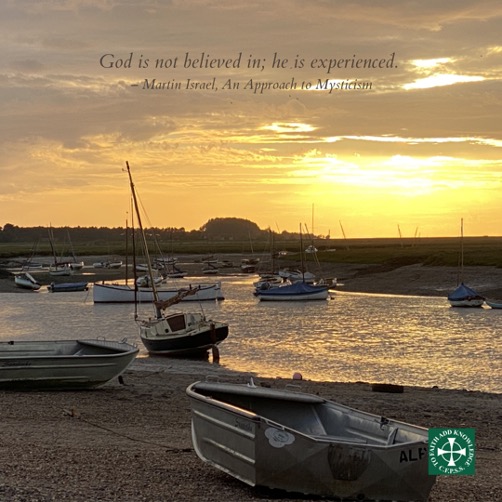 Move cursor over to enlarge
66. On our
Downloads
page there is a piece to ponder on during lockdown on
Hospitality, hearing and the Holy Spirit
. Enjoy.
65. 'Enquire about the ancient paths; ask which is the way that leads to what is good. Take that way and you will find rest for yourselves.' Jeremiah 6:16 (REB).
64. I have been sending out a couple of items that may be of use to our viewers during this unusual time of lockdown nationally. They are
On Contemplation
and
A Short and Very Easy Method of Prayer
. Each of them encourages us to a deeper, more loving relationship with God.
63. On our
Book Reviews
page there is a new review of
Mystical Phenomena compared with their human and diabolical counterfeits
by Mgr. Albert Farges.
62. On our
Book Reviews
page there is a new review of
The Wisdom of Near Death Experiences
by Dr Penny Sartori.
61.
Love redeems suffering.
In conversation with a good friend recently we tried to come up with a statement of the Christian faith that might be understandable by anyone in a secular setting. We think that 'love redeems suffering' expresses the essence of Christian faith. How would you express the essence of our faith?
To see the earlier 60 comments click the green arrows below.
60. A kind viewer has written 'I have spent this morning reading your booklet
An Introduction to Psychic Awareness
and can only say I am mega-impressed. It is so comprehensive and informative. It is also deep and offers such wisdom, insight and understanding. It is beautifully written and so clear and balanced in what it is saying. I seriously could not dream of offering any thoughts as to how it could be improved. I will read it again – and then probably again - as I am well aware that it contains so much and therefore one reading will not be sufficient to glean from it all that one can.'
59. The mystics tell us of the real and actual presence of God in and through all life. They tell us that life is a process of becoming: becoming more fully human and so more divine, more like Jesus, that this process is inexorable and ultimately unstoppable, that our part is always to choose to cooperate with God's will for us. His will is proclaimed to us through the events of our everyday life. Our struggles are of turning from hubris towards prayerful dependence upon supernatural love in our everyday circumstances.
58. The Revd Dr Martin Israel used to teach that the whole of the Christian faith may be summed up in two practices: love and forgiveness. We may know we have been forgiven a particular misdeed when, firstly, we have stopped doing it and, secondly, the emotional pain felt as a consequence has faded away.
57. "Why Pray?" by Robert Llewellyn. "The contents of this small book are pure gold" (Neil Broadbent). A review of this book can be found on the
Book Reviews
page.
56. A prayer by Brother Roger of Taizé; 'Holy Spirit, open us to trust and heartfelt simplicity, so that we can forget ourselves and surrender ourselves to you.'
55. The rule is simply:-
Pray as you can, and do not try to pray as you can't.
So wrote Abbot John Chapman on p.109 of his
Spiritual Letters
.
54. 'God cannot be found by any work of your soul, but only by the love of your heart. He cannot be known by reason. He cannot be thought, grasped or searched out by the understanding. But he can be loved and chosen by the true and loving desire of your heart.' Found in
The Assessment of Inward Stirrings
written by the anonymous author of
The Cloud of Unknowing
.
53. The presence of the Holy Spirit is spelt l-o-v-e.
52. Another saying from St John of the Cross: 'One word spoke the Father which Word was his Son and this word he speaks ever in eternal silence and in silence must be heard by the soul.'
51. The more inner freedom we have to pay attention to what is actually happening in us, around us, and in our community and other groupings the more clearly we can see not only what is going on but God at work in us. And
"absolute undivided attention is prayer,"
wrote Simone Weil.
To love God more dearly, see him more clearly, and follow him more nearly we need like pygmies to stand on the shoulders of giants who have gone before us; the great women and men of prayer in the churches' past.
50. I have been reflecting lately on a beautiful saying from St John of the Cross. 'I saw the river which all must cross to enter the kingdom of heaven and the name of the river was Suffering. And I saw the boat which carries us across the river to enter the kingdom of heaven and the name of the boat was Love.'
49. What did Jesus do on the cross that we should be imitating? How are divisions to be overcome?
How are we saved from our sins? Fr Ron Rolheiser explains
in these beautiful words; " What Jesus did in his passion and death was to transform bitterness and division rather than to retransmit them and give them back in kind. In the love which he showed in his passion and death Jesus did this:
He took in hatred, held it inside himself, transformed it, and gave back love.
He took in bitterness, held it, transformed it, and gave back graciousness.
He took in curses, held them, transformed them, and gave back blessing.
He took in paranoia, held it, transformed it, and gave back big-heartedness.
He took in murder, held it, transformed it, and gave back forgiveness.
And he took in enmity, bitter division, held it, transformed it, and through that revealed to us the deep secret for forming community, namely, we need to take away the hatred that divides us by absorbing and holding it within ourselves and thereby transforming it. Like a water purifier which holds within itself the toxins and the poisons and gives back only pure water, we must hold within ourselves the toxins that poison community and give back only graciousness and openness to everyone. That's the only key to overcome division."
48. Thanks to Fr. John Foley for his understanding that,
'Faith is Openness to God's Love.'
47. Please pause and reflect during Holy Week on the thought that Jesus went through his passion and death without resentment that is unresentfully.
46. A thought from Thomas Merton (1915-1968), "In prayer we discover what we already have. You start from where you are and you deepen what you already have, and you realise that you are already there. We already have everything but we don't know it and don't experience it. Everything has been given to us in Christ. All we need is to experience what we already possess."
45. A thought for Advent from Simone Weil,
'Humility is attentive patience.'
44. G.Maloney in 'Why not become totally fire?'(1989, p.28.) wrote "Prayer is experiencing [the] intimate, creative presence of God within you, calling you into more complete being by inviting you to surrender yourself totally to His creative love within you. God looks at you with His gaze of perfect love, infinite tenderness, the closest intimacy through self-emptying love on God's part toward you. He looks at you with all the possibilities to which He is calling you. He sees your sins and potential for future good and evil, for nothing can be hidden from Him. Yet you have an overwhelming experience that God tenderly, intimately loves you."
43. Meeting Evil with Mercy is not only an excellent prescription for the evils of our present world, it may also be read as a 'How to' book on how spiritual growth really can and does happen in people of the twenty-first century.See
our review
.
42. Have you ever thought that
compassionate listening is spiritual accompaniment?
41. View an account of one of Teilhard de Chardin's
mystical visions
.
40. View
Order of Service
for a healing service of a more radical style.
39. View a book on
God and Ghosts
written by an independent mind.
38. A simple
Order of Service
for a healing service, in the 'hymn sandwich' tradition, is available for download here.
37. How do you understand the relationship between Christian spirituality and the human soul, or psyche? Confused? Bamboozled? Unsure?
A booklet
, new to this website, may be of service to you.
36. A new download shows a style of
'Praying with God'
that I and others have found helpful. It was given by the Revd Dr Martin Israel.
35.
Henri Nouwen writes
on page 125 of Reaching Out, (1976) "Contemplative reading of the holy scriptures and silent time in the presence of God belong closely together. The word of God draws us into silence; silence makes us attentive to God's word. The word of God penetrates through the thick of human verbosity to the silent centre of our heart; silence opens in us the space where the word can be heard."
34.
Pierre Teilhard de Chardin wrote

Are we not at every instant living the experience of a universe whose immensity, by the play of our senses and reason, is gathered up more and more simply in each one of us? Are we not experiencing the first symptoms of an aggregation of a still higher order, the birth of some single centre from the convergent beams of millions of centres dispersed over the surface of the thinking earth?
33.
John Ortberg writes, quoting Dallas Willard
on page 23 of Soul Keeping, (2014)
"The most important thing in your life is not what you do; it's who you become. That's what you will take into eternity. You are an unceasing spiritual being with an eternal destiny in God's great universe."
32.
Rowan Williams writes
on page 81 of Being Christian, (2014)
"...prayer from our point of view is about fidelity, faithfulness, sticking to it. I may not quite know what is going on; as prayer deepens in me I am less and less likely to know what is going on. I may be baffled, I may be depressed, and I may feel that absolutely nothing is happening; fine. Just stay there and if in doubt say. 'O God, make speed to save me.' Prayer is your promise and pledge to be there for God who is there for you. And that, essentially, is where prayer for the Christian begins and ends."
31. Have a look at Teilhard in Hastings photos on our
"Classic Quotes"
page.
30.
Pierre Teilhard de Chardin wrote
At a certain time in your life you realize that you have only two choices: genuflect before something greater than yourself or begin to self-destruct.
29.
A saying of St. Therese of Lisieux.
Everything is grace, everything is the direct effect of our Father's love. Everything is grace because everything is God's gift. Whatever be the character of life or its unexpected events -- to the heart that loves, all is well.
28.
Human weakness and healing love.
It was the Church of His time that conspired to crucify Jesus, not the common people around Him, who were weak rather than evil. And yet we are not to indulge our weaknesses or those of other people. They are to be confronted, seen for what they are, and given to God in humble confession so that they may be healed. This is love in action; it is not simply a benevolent attitude but a way of life that works towards the healing of all things in God. Love is warm, but it has its chill also — for it demands everything we possess. Love endures all things, but it also works with impatience for the resurrection of folly to wisdom, for the maturing of selfish attitudes of juvenility to the self-giving sacrifice that crowns a life of creative experience.
Self-love is no static ecstasy of self-approval. It is simply the first essential stage in an arduous re-creation of the personality into something of the fullness of the stature of Christ. In the same way, only when we love the perversity that lies at the heart of another person's soul, can we effect a relationship with him. But the end of that relationship is a regeneration of that individual into a real person, one who has an alert, functioning will capable of choice, decision and action. Only when we have come to terms with the perversity within ourselves can we start to relate in earnest with the other person. The Revd Dr. Martin Israel.
27.
For Remembrance Sunday.
Written by a young, unarmed volunteer stretcher bearer in the trenches of France in 1916. He was twice decorated for Gallantry and went on to become one of the great visionary priests of the twentieth century.
Observed in isolation, pain is inexplicable and hateful; but as soon as we attribute to it its proper place and role in the cosmos, we can read its features and distinguish its smile. It is pain that, by stimulating beings to react against conditions that are inimical to their full development, forces them to leave unprofitable roads; it stimulates them to undertake fruitful work and induces them to attain common harmony and to adapt themselves to one another in such a way as to avoid conflicts that injure and encroachments that reduce them.
It is pain again that, by detaching man from lower delights, forces him to seek joy in considerations and objects that 'worm and rust do not consume', that makes his soul return to the higher reaches of being, and keeps the vital pressure continually at work against the present limits of his development. It is pain, finally, that automatically punishes any transgressions of life's laws, and sees to it that they are expiated. Suffering stimulates, spiritualizes, and purifies. His name is Pierre Teilhard de Chardin.Writings in Time of War p.43.
26.
The CFPSS has just published my 28 page booklet on Psychic Awareness: An Introduction.
25. The power of the Holy Spirit is spelt L O V E.
24.
William Law's Triune God.
CREATOR, REDEEMER, and LOVE, are the one true unchangeable, triune God, that Father, Son, and Holy Spirit, which from everlasting to everlasting have only one will, and one work of heavenly life, light, and love in, and towards the creature. And as true as this is, so true is it also, that from the first to the last man, no one was, or ever will be any further from this essential operation of the holy deity in his soul, but so far as he hath withdrawn himself from it. "God hardened the heart of pharaoh"; this saith neither more nor less, than that pharaoh had withdrawn his heart from God.
23.
"Absolute self-giving is the only path from the human to the Divine"
wrote St John of the Cross.
22. The delightful, and saintly, Revd Robert Llewelyn was a patron of our charity for many years. I am pleased to be able to recommend a new website dedicated to him at
Light for the Journey.
21.
Mission is love in action.
20. Do you know where the human soul lives? Download
The Soul Lives where it Loves
.
19. Global Warming and Overpopulation. Download the book review
Judgment Day The Struggle for Life on Earth
.
18. An intermediate dimension to reality?
Have you ever wondered if there is anything between the physical, material everyday world and the essentially invisible spiritual world? Does anything lie beyond the five senses? The answer is 'Yes'; there is an intermediate dimension to reality which is the realm of the parasenses or the psychic. 'Psychic' means to do with the human soul and the Bible has much to say about this which is positive. Many seekers are not interested in the psychic believing it to be unscientific, too nebulous or too dangerous. If you wish to consider further this topic, have a look at our
The Psychic: A Brief Bibliography.
17. Archbishop William Temple wrote this beautiful prayer.
Almighty and eternal God, so draw our hearts to thee, so guide our minds, so fill our imaginations, so control our wills, that we may be wholly thine, utterly dedicated to thee; and then use us we pray thee, as thou wilt, but always to thy glory and the welfare of thy people; through our Lord and Saviour Jesus Christ. Amen.
16. 'God asks of us only one thing',writes Meister Eckhart, 'that we dethrone the creaturely self and let him dwell in us.'
15.
What does Sozein mean?
The word Sozein is a verb from the Bible signifying the setting free, delivering from danger, making safe and healing of people. It refers to God's work on behalf of us all. It leads to making whole, thus making holy.
13. Have you ever "felt" the presence of God?
Do you ever "know" what others are thinking?
Have you ever had a vivid impression of someone who has died?
Have you ever had premonitions that came true?
Do you long to explore and to share the reality of the spiritual dimension that lies within us all?
Has your minister or priest dismissed your experience? If so, take a look at the
CFPSS
.
The Churches Fellowship for Psychical and Spiritual Studies
exists to promote the study and the integration of psychical and spiritual experience within a Christian context. Founded in 1953, it continues to serve churches and individuals with many and varied backgrounds, particularly helping those who may have encountered an event which was outside their understanding or those who may have received a 'gift of the Spirit' and found little encouragement and support in finding a way forward.
12. No Faith in Religion
"If religion is characterised by the recruitment of God to serve our agendas, and faith is about putting our agendas at the service of God, then clearly there is too much religion in the world, and not enough faith." writes the Rt Revd Dr John Saxbee, Bishop of Lincoln, in his book 'No Faith in Religion'.
11.
Why is the Eucharist so important to the Church?
Jesus instituted the Church at the Last Supper. It is a celebration, a thanksgiving to God for what He has done for all humanity in Jesus' offering of his own life to save us from our self-centredness. It is the ultimate free gift of self-giving love. It is a re-presentation, an assembling together within God's infinitely compassionate mercy of all the brokennesses of the whole of creation. To share in Holy Communion is to be inwardly and spiritually lifted up into the fullness, the completeness of healing, of salvation which has already been achieved for all of us together.
10. Archbishop William Temple on Faith
Archbishop William Temple described
faith as the transfer of interest from Self to God.
9. The spirit of Contemplation
Swami Abishiktananda wrote in his: Hindu-Christian Meeting Point "As more and more Christians become deeply familiar with the mystics and their writings, the contemplative dimension of the faith, which, though latent, is present at the heart of the church will gradually be brought to light. Then her rites, institutions and formularies, the life of her members—in a word, her whole 'epiphany,' the entire 'revelation' of the Lord which by her very calling she exists to show forth in the world—will be increasingly permeated with the spirit of contemplation and interiority.
Only at this depth of interiority will it be possible for the Church to solve realistically and effectively the problems with which she is faced today."
8.
We are living in God
"We have to learn in practice what we always knew in theory:
everything that happens is God's Will. God's Will always intends our good.
God's Will is carving us into the likeness of His Son.
Every moment is the message of God's Will; every external event, everything outside us, and even every involuntary thought and feeling within us is God's own touch. We are living in touch with God. Everything we come in contact with, the whole of our daily circumstances, and all our interior responses, whether pleasures or pains, are God's working. We are living in God—in God's action, as a fish in the water. There is no question of trying to feel that God is here, or to complain of God being far, once He has taught us that we are bathed in Him, in His action, in His Will."
Abbot John Chapman,2003, Spiritual Letters p.143. Archbishop Rowan Williams wrote, in The Tablet, 'Spiritual Letters was probably the single most influential book for me in my twenties, and still is.'
7.
The Meaning of the Incarnation
"The meaning of the Incarnation, therefore, is simply that we do not have to attain union with God. Man does not have to climb to the infinite and become God, because, out of love, the infinite God descends to the finite and becomes man. Despite man's refusal of God, despite his pride, his fear, his helpless and hopeless involvement in the vicious circle of sin, God's nature remains unalterably love—the agape which consists in giving oneself wholly and without reservation to the beloved.
Therefore the eternal Word, the Logos, becomes flesh, making our nature his nature; he assumes our limitations, suffers our pains and dies our death. More than this, he bears the burden of our sins: that is, he remains in union with us even though we crucify him and spit on him; he continues to dwell within us and to offer, or sacrifice, our lives to God even though we commit every imaginable form of depravity. In short, God has wedded himself to humanity, has united his divine essence with our inmost being "for better for worse, for richer for poorer, in sickness and in health" for all eternity, even though we elect to be damned.
If I ascend up into heaven, thou art there; If I make my bed in hell, behold, thou art there also.
All that remains for us to do is to say, "Yes—Amen" to this tremendous fact, and this is still within the power of our fallen nature. Our motive for saying it, however perverted by pride and fear, makes not the least difference, because the fact is the fact: we have been given union with God whether we like it or not, want it or not, know it or not. Our flesh has become his flesh, and we cannot jump out of our own skins.
And once we realize the futility of our pride, that we can neither ascend to God nor, by reason of pride, prevent his descent to us, the proud core of egoism is simply dissolved—overwhelmed by God's love. The function of Christian morality and spirituality is not to earn or deserve this gift of eternal life, but rather to appreciate and express it. The saint is holy not to attain union with God, but to give thanks for it."
The Revd Alan Watts, 1972, Behold the Spirit: A Study in the Necessity of Mystical Religion.
6. See details about
The Christian Parapsychologist
.
5. Quakers study Life after Death
A Friend has kindly introduced me to this website. You may find it helpful.
View the homepage of the
Quaker Fellowship for Afterlife Studies
.
4. Fr. Gerard Hughes on Healing and Spirituality
In his book God of Surprises we find "
Our treasure lies in our inner life
. It is our inner life which affects our perception of the world and determines our actions and reactions to it. … in religious language this inner life is called "the soul", and the art of knowing it, healing it, and harmonizing its forces is called spirituality. Religion should encourage us to become more aware of this inner life and should teach us how to befriend it, for it is the source of our strength and storehouse of our wisdom."
3. The Church Times on
Near Death Experiences
Download
Light at the end of the tunnel?
1.
Christian Teaching on Life after Death
Death is the one absolute certainty ahead of us all. Conscious of the lack of recent publications from within the church on this topic and believing it is an ongoing concern shared quietly amongst groups of trusted friends the world over, may I raise a question which I sometimes ask groups during a quiet, or a discovering, day at our charity?
I start by showing our visitors a book, a dark blue hardback, on which the title is stamped in silver: Our Life after Death. I explain that its author was a clergyman, the Revd Arthur Chambers, and that the sub-title reads 'The Teaching of the Bible Concerning the Unseen World'. I explain that my copy is from its one hundred and ninth impression and was printed in 1909. It was first published in 1894.
Lest anyone is tempted to dismiss this volume as a one-off, I then show them another book,a red hardback from 1896, entitled After Death. Its subtitle is 'An Examination of the Testimony of Primitive Times respecting the State of the Faithful Dead, and their Relationship to the Living'. Before anyone screams "Spiritualism!", I hurry on to tell them the author is one Herbert Mortimer Luckock, Doctor of Divinity and Dean of Lichfield Cathedral. Sometimes I throw in a third title, There is No Death, by the Venerable Basil Wilberforce, Doctor of Divinity, (eighth edition, 1932).
To a group of bemused, or suspicious, Christians my question is "Why don't we see similar titles in bookshops today?"
There are the positive writings of the Revd Dr Martin Israel and the Revd Canon Dr Michael Perry but the general public are unlikely to hear of them.
In the meantime, I offer this download as a small contribution towards adding a Christian dimension to this perennial concern.
Download a leaflet on
Life after Death
.